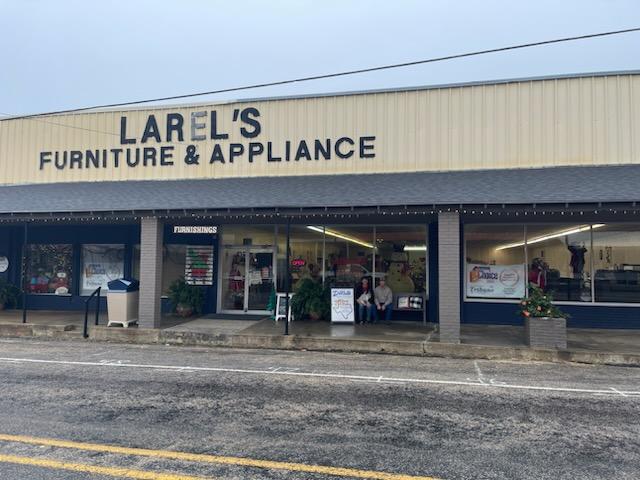 Larel's Furniture and Appliance, 132 N Runnels St., DeKalb, TX 75559 is a great example of a reason to Shop and Buy Local. They have been a fixture in DeKalb for many years. 
Their customer service, atmosphere and great products are a model for all of us to follow. Mike and Jana are always there and provide that extra customer service that you just won't get when you buy online. Deliveries are trouble free and arranged at your convenience. 
They are Open Monday thru Friday from 8am till 5 pm. If something special is happening in town, they'll be open Saturday mornings too.
They can be reached at: 903-667-2213
---
Elara Caring, 102 North Centre Street, DeKalb, TX 75559 is a wonderful and needed asset for our DeKalb area community. They provide excellent and needed services, such as:
Skilled Home Health - With a focus on recovery, rehabilitation and health education, our support team provides a wide range of clinical health services wherever you or a loved one call home. 

Hospice Care - This clinically driven, comprehensive, holistic program of care is designed to support patients and their families with a focus on comfort, pain relief, symptom management, and quality of life. 

Personal Care Services - If you or a loved one needs help with activities of daily living, home safety or personal care, we can provide a specialized program of care to make life easier. 

Behavioral Health - Our care teams support individuals with a wide range of behavioral health conditions with a focus on assessment, education and action plans that promote recovery at home. 

Palliative Care - We work with individuals, families and their doctors to match treatment choices to care goals. This extra layer of support increases control over care and improves quality of life.

They can be reached at: 903-667-4588
---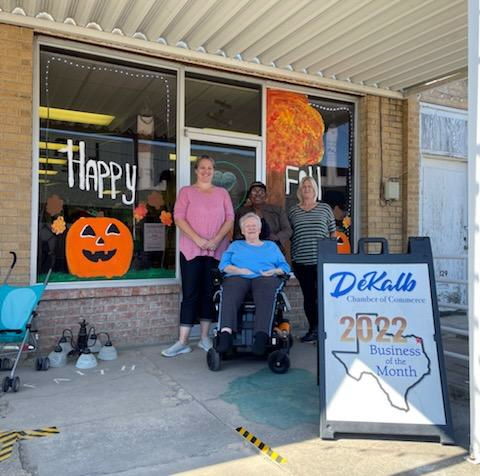 Sarah Eastman, Chris Callahan, Peggy Thibeaux & Alita Leadbeater
DeKalb Hope, 127 N Runnels, DeKalb, TX 75559 is a community-based non-profit organization that practices good stewardship by drawing together resources of individual benefactors, local churches, local businesses and civic organizations which are used to meet the needs of those seeking assistance.

After a destructive tornado in 1999, a committee was formed as part of a disaster recovery to help those in need. They moved to their current location on Runnels St when the building was donated by State Bank of DeKalb in 2006.

They provide short-term food provisions, emergency utility bill payment assistance, minimum purchase of propane or firewood and emergency rent or mortgage assistance. Hope is non-discriminatory, open to all persons. A client's income has to be at or below poverty level.

DeKalb Hope can be reached at: 903-667-4311
---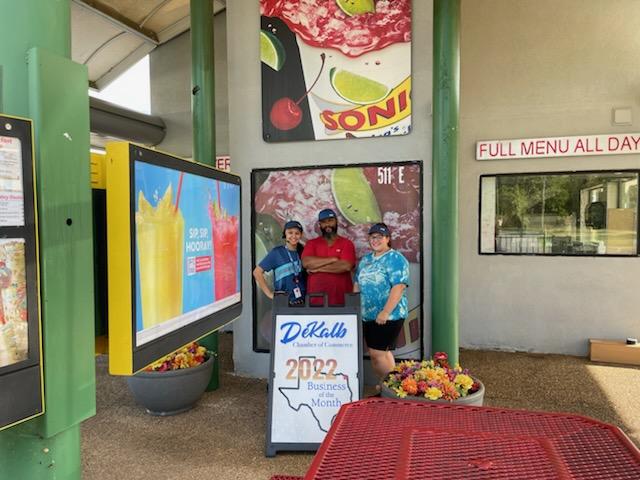 Sonic Drive-In, 500 NE Front St., DeKalb, TX 75559 is your Fast Food Restaurant with a retro flair in De Kalb, TX. Over the years they have been a great supporter of our community.

Always willing to help out with products, donations and whatever they can do to help our community come together. They're especially helpful when we have a Chamber of Commerce event or our DeKalb Oktoberfest. Thanks Sonic

Their hours are: Monday thru Thursday 5:30 am till 11:00 pm; Friday and Saturday 5:30 am till 12:00 am and Sunday 6:30 till 11 pm
Phone 903-667-9930
---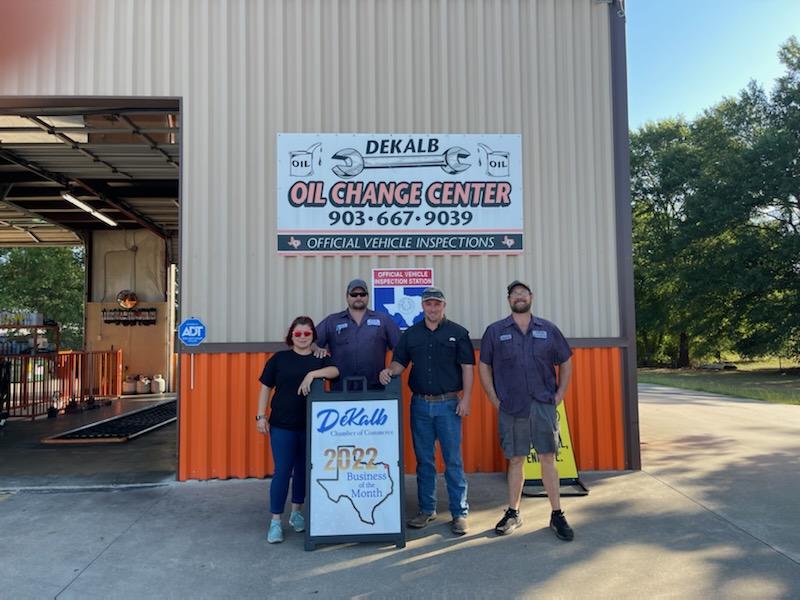 DeKalb Oil Change Center, 631 E Front St., DeKalb, TX 75559 is celebrating new ownership as well as our Chamber's Business of the Month. New owner, Micah Fannin, is joined by Craig T, Ashley C and Justin H. They also perform Texas Vehicle Inspections, for your convenience.
Their hours are: 8:30 am till 5 pm - Monday thru Friday and 8 am till noon on Saturday. They can be reached at 903-667-9039.
DeKalb Oil Change Center will also be hosting a Grand Re-Opening on August 13, at 9 am. Everyone is invited!
---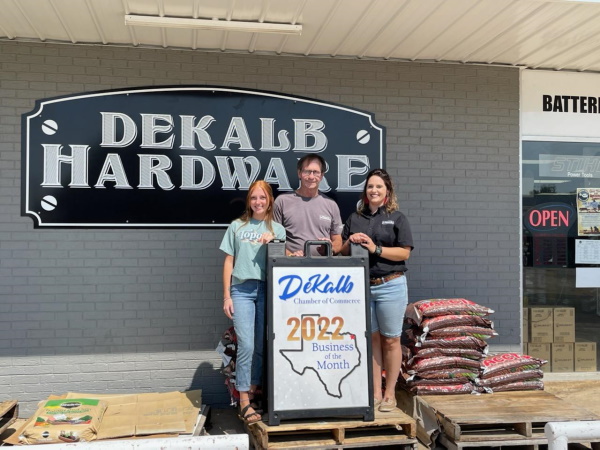 DeKalb Hardware, 121 N Centre St, DeKalb, TX 7559 is your neighborhood hardware store. They always seem to have just what you need and really understand customer service. Smiling employees - Candice W, Rocky D and Lauren B
DeKalb Hardware is a family owned and run business with a great mission: Dekalb Hardware is dedicated to providing superior products and excellent customer service to the citizens of DeKalb! They have fantastic hours: 7:30 to 6:30 Monday thru Friday; 8 till 5 on Saturday and even open on Sunday: 10 till 4 pm
They can be reached at: 903-667-2551
---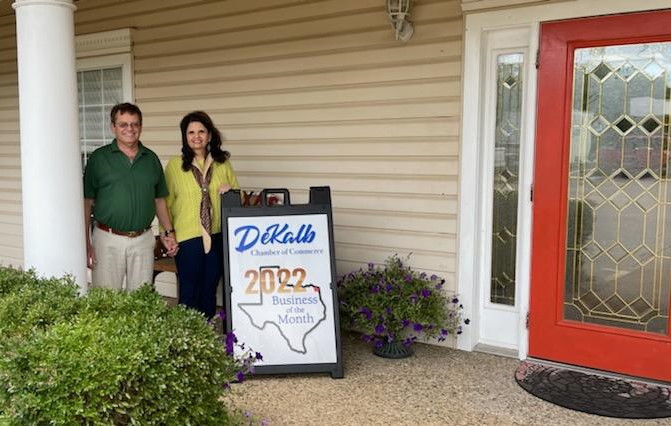 Hodges Dental, 109 Northwest Oak Street, De Kalb, TX 75559 is your local Go-To Dental Clinic!
They offer various insurance company coverages and are a family run clinic with an excellent reputation. They are Open Monday thru Thursday from 8:30 till 5 pm. 
Their slogan is "If you wake-up with a toothache, we will do our best to see you the same day you call. Call early!" How great is that in these days!! They can be reached at: 903-667-5127
---

Tradn' Post, 535 E Front Street, DeKalb, TX 75559 is where Jim & Selenda bring so much happiness to all the people that stop at their store!! They have really cool and unique items at great prices.
Just look at those smiles - they love what they do and have been very supportive of our DeKalb community and our Chamber! Congratulations Tradn' Post for being our May 2022 Business of the Month!
They can be reached at: 903-701-2082
---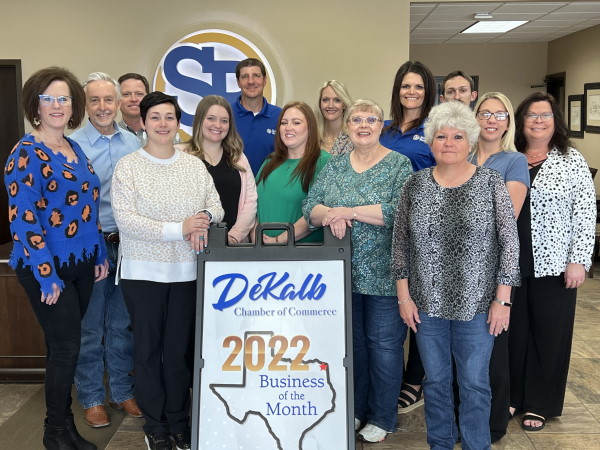 State Bank, 102 SW Runnels St, DeKalb, TX 75559 has been the home town bank here in DeKalb since their incorporation in 1932.

Over the years, they have expanded to other local area - Atlanta, Clarksville, Nash and Texarkana. A new branch building is being constructed in New Boston.

Their growth within only our local area shows how dedicated they are to DeKalb and our local communities! Thanks State Bank for being one of our oldest DeKalb Chamber of Commerce members!

They can be reached in DeKalb at: 903-667-2553
---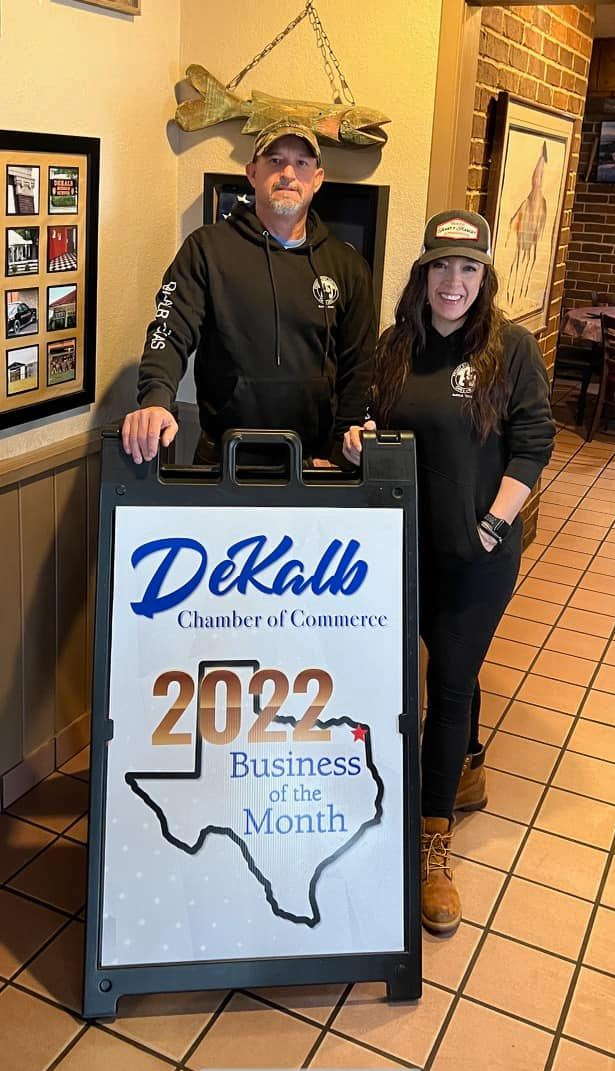 Front Street Junction, 535 W Front St, DeKalb, TX is our March 2022 Business of the month. 
The Prather/Crouch family have loyally been in the restaurant business for 41 years. Ted, Suzanne, Tommy & Ashley thank the community for their continued business.
The Board of Directors would like to give a thank you to Front Street Junction for their Founding Membership with the chamber. Since the opening of Front Street Junction, they have been dedicated to supporting the Chamber & our community.
People come from all around to eat at the Front Street Junction for its high quality service and food. They have establish a great reputation and put DeKalb on the map as a must-do stop for delicious food.
Phone 903-667-3086
---
DeKalb Physicians Clinic, 216 N Center St, DeKalb, TX. 

Congratulations to DeKalb Physicians Clinic as the DeKalb Chamber of Commerce Business of the Month for February!

They are huge supporters and sponsors of many community events and help to promote our town. Thank you for representing DeKalb so well.

They can be reached at 903-667-2273
---

Jody's Flowers, 132 N Runnels St, DeKalb TX, celebrated their 20th year in DeKalb. Just that alone makes them outstanding!!

Thank you for serving our community and congratulations for being recognized as the January 2022 Business of the Month. Jody Putzier Crouch & Jana Ford
Jody's Flower can be reached at 903-667-4321