Our DeKalb TX Chamber of Commerce helps our local businesses grow and prosper thru our chamber promotions. Here at DeKalb Texas Chamber of Commerce, we are driven by a single goal; to do our part in making our community a better place for all.

We strive to build productive relationships and make a positive impact with all of our pursuits. 

Our association consists of over 75 businesses, organizations, and individuals that work toward the interests of our business community.

Please shop our local businesses whenever you can!
---
Ribbon Cutting & Grand Reopening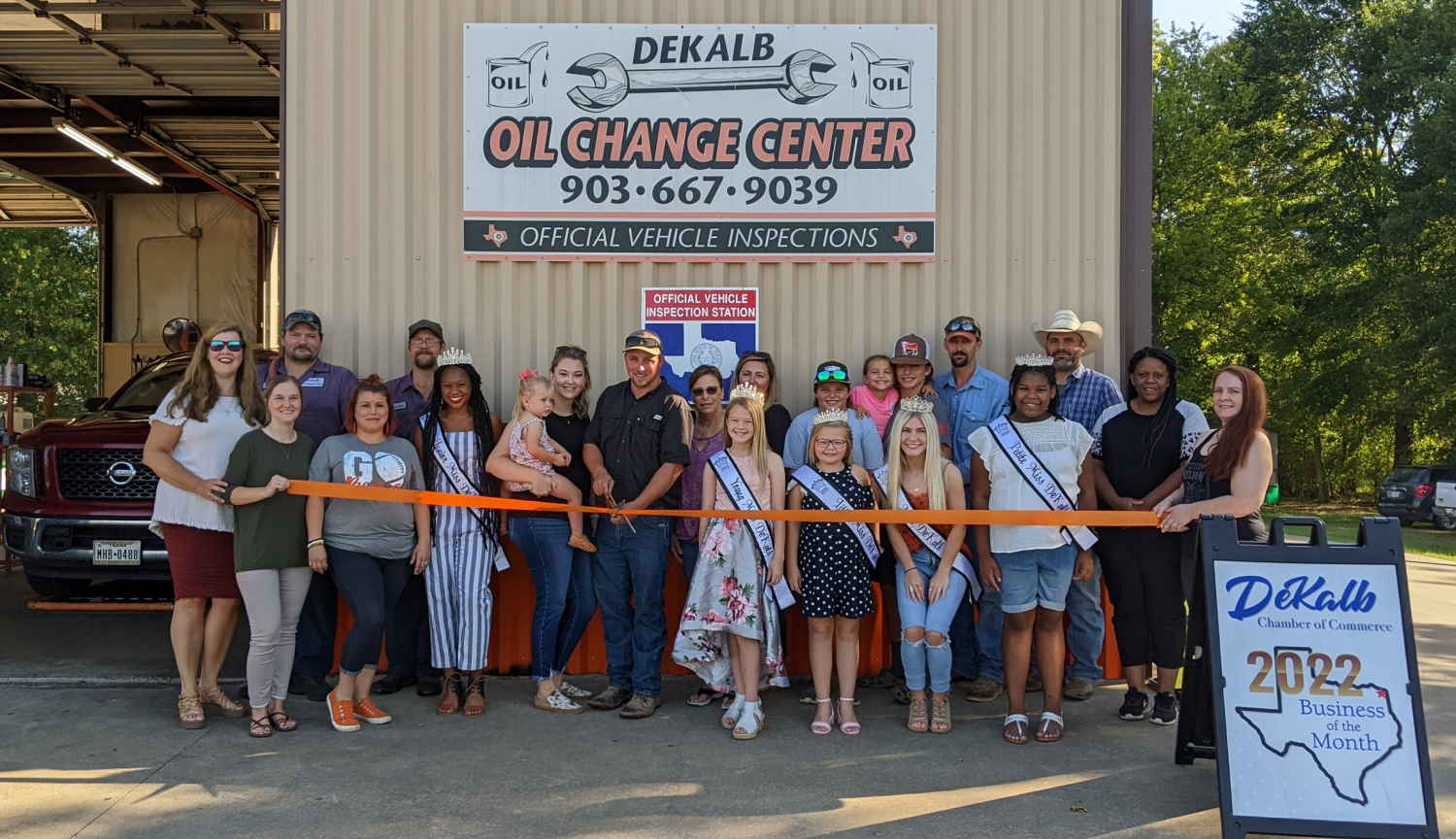 DeKalb Oil Change Center, 631 E Front St., DeKalb, TX 75559 is celebrating their Grand Re-Opening. A great day for DeKalb with lots of family, friends, guests and Chamber members for this business celebration. See more Pictures and Story HERE
---
DeKalb TX Chamber of Commerce Business of the Month
Rockin K Rose, 641 E Front St (Hwy 82), DeKalb, TX 75559 is a unique blend of Fashion and Flowers.
They are Open Monday thru Thursday - 10 am till 5 pm; Friday till 5:30 and Saturday 11 am till 2 pm.
They can be reached at: 903-667-2418
---
Please welcome our newest business to join our DeKalb TX Chamber of Commerce
D & D Guns, 930 N McCoy Blvd, #2, New Boston, TX 75570 is a family owned business with a large inventory of firearms, ammunition and accessories. We can suit any budget. We also have a gunsmith on staff.
Our staff is very knowledgeable and willing to help. We buy, sell and trade guns also. Come by and visit our store. Open Monday thru Friday 9am till 5:30 pm; Saturday 9 am till 2 pm
We can be reached at: 903-628-1270
---
Join our Chamber today
Joining the Chamber is an investment in our community. Chamber members are business owners who understand that when their business prospers, the local community benefits.
Many of our members lend their talents, time and resources to tackle important business and community development issues that impact the future of our community.
Featured Gold Members

---