Business of the Month 2023
Business of the Month 2023
Business of the Month 2023 is a great way to showcase a Chamber Business Member for our viewers. We try to highlight an outstanding business each month.
September Business of the Month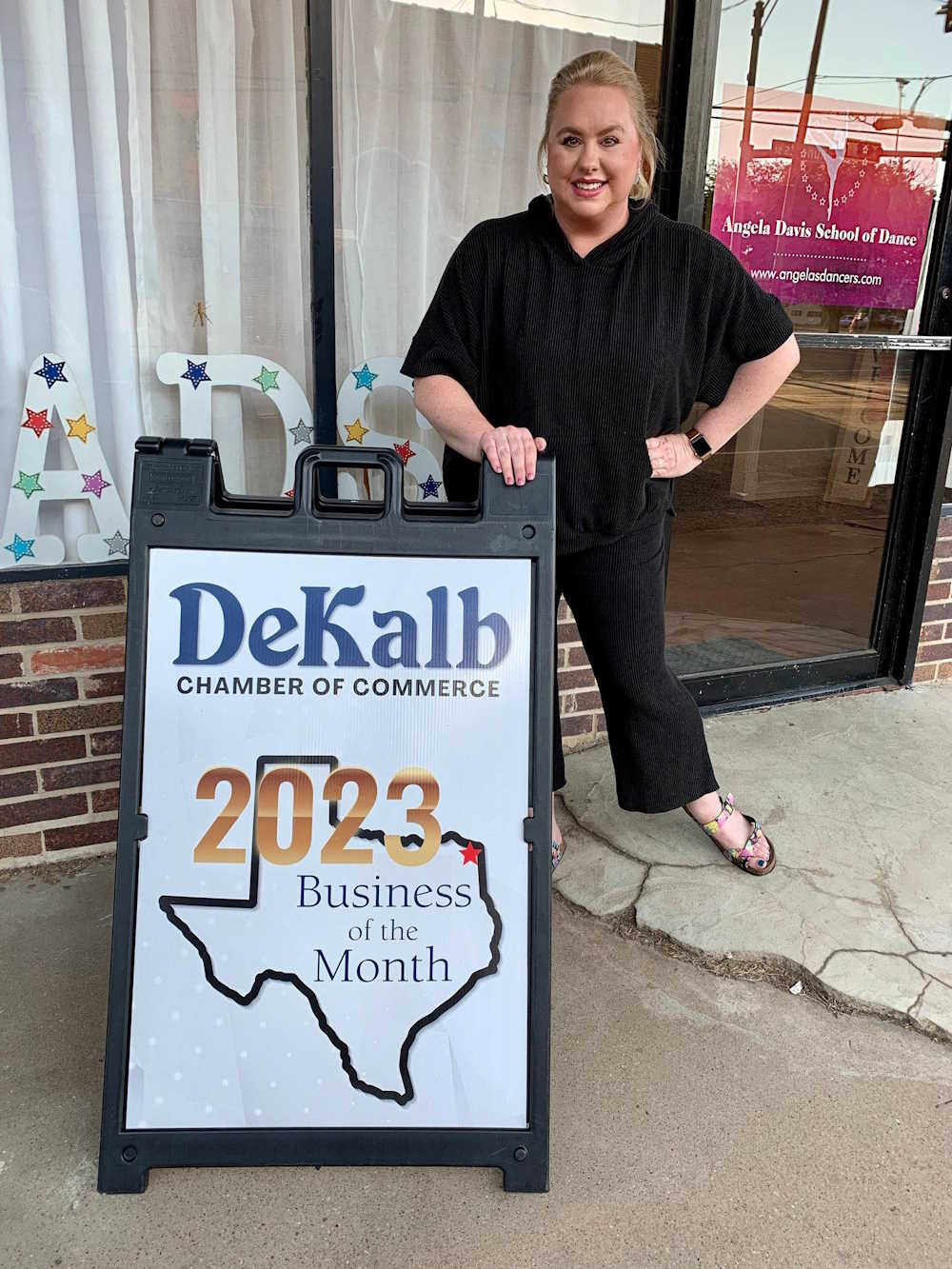 Angela Davis School of Dance, 101 E Front St., DeKalb, TX 75559 is home to Angela Davis Thomson. Angela is a member of the Texarkana Community Ballet and performed in "A Christmas Collage" and "The Nutcracker" where she was taught by Gayle Burrows, the late Dixie Splawn, and Lana La Voice Grounds. She is also a current member of the Dance Council of North Texas.
​Angela was born and raised in DeKalb. Her parents are Mike and Karen Davis. Her grandparents are the late Dr. Alex and Chris Keller and the late Henry and Betty Davis, all from DeKalb. She is married to Chris Thomson and now resides in Redwater. The National-award winning Angela Davis School of Dance was founded on July 7, 2007. The students participate in many shows throughout the year and as special entertainment for community events. The ADSD "Sparklers" Competition Dance Team began in 2010. This National award-winning team has brought home many first overall awards, holds National titles, Judge's Choice awards, Studio Spirit awards, and scholarships. The Competition Pom Team began in 2016 and has brought home many awards at all Regional competitions. Angela has choreographed, and co-stage managed, for the Miss Texarkana/Twin Rivers pageant. Several students have attended and won titles or placed in the TOP 10 in the Miss Texas' Outstanding Teen, Miss Texas pageant, USA National Miss, and several local pageants. ADSD is proud to have graduate students audition for and become college dance team members after high school. These students' teams have placed high at NDA College Nationals in Daytona, Florida.
While attending dance classes as a child, Angela's favorite day of the whole year was recital day. She hopes your child will feel the same way. She wants to thank the families of her dancers for allowing her the opportunity to be a part of their child's life.
She can be reached at: 903-826-5741
---
August 2023 Business of the Month
Bates Family Funeral Home, 601 E Front St., DeKalb, TX 75559 has been serving the public more than 50 years and three generations. Our family has prided ourselves in serving our community in a professional, caring manner.
We are a 3rd Generation Family Owned Funeral Home that is proud to serve De Kalb and surrounding communities, as well as other cities in and around Bowie County. We always offer our clients and their loved ones a sensitive, calming experience, where everything is taken care of for them. We not only listen carefully to the wishes and requirements of our clients, but will offer you our compassion and support in these difficult emotional times.
Bates Family Funeral Home is a proud recipient of the 2012, 2013 & 2014 Pursuit of Excellence Award Pursuit of Excellence is the premiere recognition program for funeral service, setting standards of excellence that motivate funeral home staff, inspire innovation and sustain consumer confidence in the funeral profession. NFDA's Pursuit of Excellence program recognizes funeral homes that are committed to providing outstanding service to families and communities they serve and are dedicated to achieving the highest professional and ethical standards. They can be reached at: 903-667-2009
---
June 2023 Business of the Month
Jackie Hawkins Insurance Agency, 111 North Houston St., DeKalb, Texas 75559 began in 1982 with Mr. Hawkins' desire to phase into a career change that would allow him retirement from Civil Service but still motivate him and challenge him mentally. The business expanded each year and he provided reliable insurance not only in DeKalb but across East Texas.
The agency continues to be independently owned and operated with ownership transferring to his son, Greg, in 2015. In order to provide easier access for clients, the office moved from the Hawkins' home to a building in DeKalb in 2017. Pappy decided this was too long a commute (six miles) and officially retired from the agency at that time. Pappy went to his heavenly home December 11, 2018.
While beginning as a Germania agency, we now have appointments with other insurance companies as well. Increasing options for our customers is a primary goal and we are continually exploring other markets.
We have a combined experience of many years in the industry. This experience, along with our excellent customer service, allow us to make the insurance experience more pleasant and personable. We think of our customers as our friends—not just clients. We are there for your needs and will assist you in securing coverage, making changes, filing claims, and just discussing concerns or answering questions. Give us a call - 903-667-2072; we are here for you!
---
Angela Son Re/Max Preferred, 1021 West Grizzley, DeKalb, Texas 75559 is Your Local Real Estate Expert! Luxury Homes, Residential, Recreational/Hunting, and Farm/Ranch Real Estate Are My Specialty!!
Becoming a REALTOR in 2002, then in 2009 getting my Brokers license for Texas, Arkansas, and Oklahoma has been and continues to be the most rewarding career!! I truly love working with my Buyers and Sellers, I have met many wonderful clients and customers over the years handling a wide variety of properties from helping the first-time home buyer purchase their first home, to handling estates after the loss of a loved one and so many other sales in between from Residential Homes to all size tracts of land used for Home building sites, Recreational, Hunting, Row Crop Farms, and Ranches. Offering my customers and clients professionalism, honesty, integrity, and attention to details that they expect.
Allow me to put my 20+ years of successful experience bringing Buyers and Sellers together when you're ready to make your next move!!
When I'm not working, I love spending time with my fiancée Eric & my son Payton and daughter in law Christian along with our friends and family. Spending our summers on the surrounding lakes with our Jet Boat family is top on our to do list and of course and there is always a little friendly lake racing going on. Once lake season is over, we do a little traveling, shopping, fishing and golfing.
When you're ready to buy or sell I'm the Real Estate Expert who is ready to go to work for YOU!! Angela.
I can be reached at: 903-293-3883
---
May 2023 Business of the Month
Twin Rivers Vet Supply, 453 FM1701, De Kalb, TX 75559 began in 2004 with one sales rep and two veterinarians. Our mission is to provide veterinary supplies to ranchers and cattle producers who wanted (NEEDED) more service and information to help with their operation… large or small.
While still operating the mixed-practice clinic, DeKalb Animal Hospital in North East Texas, Dr. Michael Baird and Dr. David Murphy began consulting with clients throughout East Texas on their herd health needs and the Twin Rivers' rep would deliver their vaccine and other products. Clients began to appreciate the consultative approach from the veterinarians and enjoyed the added convenience of products being delivered to them! This helped customers rest easy knowing they had the right products and medications at fair and competitive prices… DELIVERED
Today, Twin Rivers Vet Supply has grown to 12 reps, working with over 4,000 customers in Texas, Oklahoma, and Kansas. We can handle all of your animal health needs while also connecting you to our network of over 20 consulting veterinarians. Additionally, in 2018 we began selling Biozyme VitaFerm products and quickly grew to become a Top 10 VIP Master Dealer! Whether you're looking for cattle vaccines, parasite control products, prescription medication, or mineral, you can count on us… we'll deliver!
Their Hours are: Monday thru Friday ~ 8am till 5 pm; Saturday ~ 8am till Noon ~ They can be reached at: 903-667-2202
---
April 2023 Business of the Month
Bowie County Equipment, 421 E Front St., DeKalb, TX 75559 is an authorized New Holland Agriculture, Bad Boy Mowers or Bush Hog® dealership serving the DeKalb Texas area. We are proud to carry a large selection of new and pre-owned inventory. When you are ready to invest in your new tractor or other agricultural equipment, our friendly and knowledgeable sales, financing, service and parts departments are prepared to make sure your experience is outstanding, from assisting while you're making your choice to ongoing maintenance and customization. We value the opportunity to create a long-term relationship with our customers, and we do that by giving you the best customer service available.
Bowie County Equipment offers experience, fair prices, and a friendly atmosphere. We're big enough to meet your broad range of equipment needs, but small enough to greet you on first name basis. Its our goal to provide you with quality products and service at an affordable price. Browse through our online catalog or stop by today; you'll be glad you did! Take your time and browse our online store! Take advantage of our showroom feature for specs, pictures, and price quotes and our internet sales page. If you don't see what you are looking for just let us know, chances are we can get it here in a hurry. At Bowie County Equipment it's our job to keep you working.
Their Hours are Monday thru Friday - 8 am till 5 pm and Saturday 8 till Noon. They can be reached at: 903-667-2584
---
March 2023 Business of the Month
Rockin K Rose, 641 E Front St (Hwy 82), DeKalb, TX 75559 is a unique blend of Fashion and Flowers. They are open Monday thru Thursday - 10 am till 5 pm; Friday till 5:30 and Saturday 11 am till 2 pm.
They can be reached at: 903-667-2418
---
February 2023 Business of the Month
DeKalb Pharmacy, 120 W Front Street, DeKalb, TX 75559 is proud to say "Locally Owned, Locally Loved", since 2004. Aside from providing a necessary service to the DeKalb and surrounding area, they have kept up with technology so they can provide customers great service.
They even have an App for your phone to Manage your Family's medicine, Set medication reminders, Order refills; Message your Pharmacist and Find your pharmacy information.
Want to speak to a real person? They answer their phones with a person!! All this service driven support is also why they are our Business of the Month - they support our Chamber and Community in so many ways.
DeKalb Pharmacy can be reached at: 903-667-0880
---
January 2023 Business of the Month
Tina Kruse of United Country Jerry Elkins Real Estate, 802 W Front St., DeKalb, TX 75559 is the Owner/Broker of Record and been in real estate since 1996.
She is extremely knowledgeable about representing you as a Listing or Buyer's Agent for Farms, Ranches and land in this area.
Tina has also been a great supporter of our DeKalb Chamber of Commerce.
She can be reached at: 903-667-3727
---